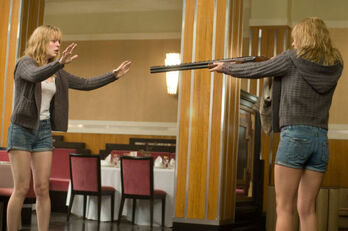 A
time loop
or
temporal loop
is a common plot device in science fiction (especially in universes where time travel is commonplace) where a certain length of time (such as a few hours, or a few days) repeats over and over. When the time loop "resets", the memories of most characters are reset, and behave as though they're not aware of the loop. The plot is advanced by having one or more central characters retain their memory or become aware of the loop through déjà vu.
Types of Time Loops
Physical Time Loop
In a physical time loop (rarely seen in the media), the spacetime loops around to form several closed timelike curves. Since the time in that region is looped, a person could escape it only by leaving the affected area. Also, there would be an infinite number of copies of any matter in the area, unless an object left the loop. In that case, there would only be as many copies of that object as many times it completed the loop. This type of time loop cannot be ended or destroyed.
Conscious Time Loop
In a conscious time loop, everyone's consciousness loops through time. In such a time loop, causality could easily be violated.
Time Loop Films
12 Monkeys
Donnie Darko
Souce Code
Groundhog Day
The Others
Time Crimes
The Butterfly Effect
The Butterfly Effect 2
The Butterfly Effect 3: Revelations
Looper
The I Inside
Sources