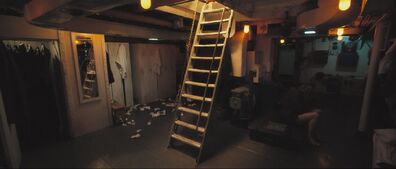 The armory
is a location seen in the film.
Appearance
It is a place where arms are kept. The floor is covered in paper one one end and it has a place where the shotguns are stored.
Movie Story
Jess sees many notes, all saying the same thing. They are written by her. She  also sees the shotguns and clothes, belonging to the killer. There, she also sees her locket, caught in a hole. She then sees many lockets and hers fall into the pit. Jess returns to the armory after seeing the others board the ship. Later she came back to get a shotgun and the clothes to become the killer.
Trivia
Gallery