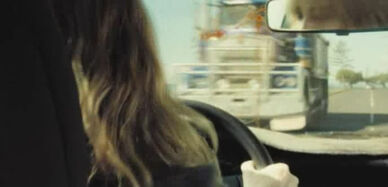 Kenworth W-924 is a vehicle seen in the film.
Kenworth
Kenworth is an American manufacturer of medium and heavy-duty Class 8 trucks based in Kirkland, Washington, United States, a suburb of Seattle, Washington. It is a subsidiary of PACCAR, and is also a former manufacturer of transit buses and school buses.
K&W Series
The Model K and Model W buses looked quite similar, but all similarities ended there. The differences were their length, side window design, and the choices of available engines. The model W had a pancake underfloor Hall-Scott 190 engine, while the K was powered by an International Red Diamond RD450 in the rear of the bus. The shorter model K was capable of hauling 25-33 passengers, while its bigger brethren could haul anywhere between 31 and 41 passengers depending on configuration. The Model N, as announced, would have seated 36 to 44 passengers in an underfloor engine configuration, but in 1947 it was downsized to a 32 to 36 passenger bus when the original design found no takers. After 1947, Kenworth began assigning numerals to the model designations to signify evolutionary variants in the design.
As production orders for the interurban model Ks and model Ws waned, Kenworth focused its attention on special orders including an order of 10 "Brucks" for Great Northern Railway in Montana, (an earlier version was built for Northern Pacific Transport, but was a split-level coach) and several Highway Post Office coaches. These "special order coaches" were based on the model T school bus, which entered production in early 1949, after additionally test-marketing a small 20-passenger bus known as the Carcoach (only one was built, but none entered full production).
In The Film
Jess had accidentally crashed into this vehicle while driving to the harbor with Tommy in the  backseat.
Sources