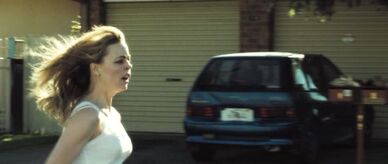 Holden Barina 1990 is a vehicle seen in Triangle.
Overview
The Holden Barina is a subcompact automobile sold since 1985 by Holden, the Australian arm of General Motors (GM). Each of the six generations have been badge-engineered versions of various General Motors vehicles, namely Suzuki Cultus, Opel Corsa, and Daewoo Kalos. Barina is an Australian aboriginal word meaning "summit".
Second generation (MF, MH; 1988–1994)
The second-generation MF Barina was a rebadged second generation Suzuki Cultus, co-developed with GM using the GM M platform and marketed worldwide under nearly a dozen nameplates, prominently as the Suzuki Swift, Pontiac Firefly (Canada) and Geo Metro (Chevrolet's sub-model in the USA). A three-door hatchback was first released in 1988, and was followed by the introduction of a five-door hatchback in 1990.
An ordering mix-up meant that (right hand drive) NZ versions - now imported assembled from Japan - received the North American Geo tail lamp cluster with red flashing direction indicators rather than the Suzuki style cluster with amber flasher sent to Australia. Luckily for GM NZ, NZ law still allowed amber or red so the red lenses remained for the entire MH series run. The equivalent Suzuki had the amber lenses.
The MH Barina, which was released in September 1991,featured an improved interior, upgraded suspension, new front and rear bumpers and revised tail-lamp clusters.
Like the previous generation, the second generation Barina provides a "worse than average" level of safety according to the 2008 Used Car Safety Ratings
Movie Story
It is seen as Jess is running home near the end of the film.
Sources