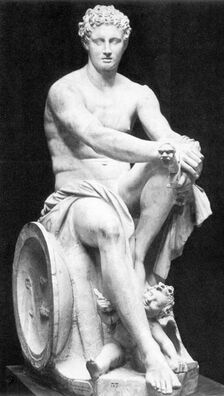 Ares is the roman God of war.
Connection to Sisyphus
When Thanatos was captured by Sisyphus, Ares (who was annoyed that his battles had lost their fun because his opponents would not die) intervened, freeing Death and sending Sisyphus to Tartarus.
Overview
The Greek god of war. He is always shown as a warrior. Both in myth and art he seems regularly shunned by the other gods though he was Aphrodite's lover.
Sources
Community content is available under
CC-BY-SA
unless otherwise noted.